Upcoming Eastern Sierra Audubon Programs
When: Now on the FIRST Wednesdays (unless otherwise noted) of October, December, February, and April; 7:00 PM (see Events Calendar) and sometimes additional months.
Where: White Mountain Research Center, Owens Valley Station (4 mi. East of Bishop on East Line St., see Map) UNLESS OTHERWISE INDICATED
Evening programs will be preceded by (1) announcements of interest to the membership, and (2) sharing of recent bird sightings and other news on the local natural history scene. Check local news media for possible changes. Everyone is welcome to attend!
December 4th: Holiday Potluck Candlelight Dinner and Program
Potluck Candlelight Dinner, 6pm
The December 4th meeting is also our annual Holiday potluck candlelight dinner, held at 6pm in the dining room of the White Mountain Research Station.
Do plan to attend as it is a fun event, and bring a friend or neighbor! Every participant should bring a dish (entrée, salad, or dessert to serve at least 6 people, and contribute either juice, soft drinks, wine or beer to the beverage table.) Please bring your own place setting. Audubon will provide coffee, tea, juice, and a touch of wine prior to the dinner. Arrive by 6pm for our potluck dinner.
The dinner will be followed by a program at 7pm:
Owens Lake and Owens River Important Bird Areas with Michael Prather
Our Eastern Sierra Audubon chapter contains two of California's largest and most important Audubon Important Bird Areas (IBA's) - The Owens River and Owens Lake. The Owens River provides riparian and open water habitat for songbirds, waterfowl and marsh species while Owens Lake has square miles of precious shorebird habitat. Audubon members help monitor both of these areas and collect bird data that helps in supporting proper management and protection. The chapter also leads field trips along the Owens River and out on to Owens Lake.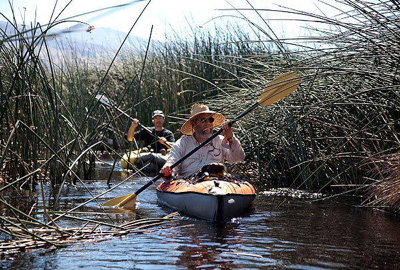 Superlatives are many and often helpful.
The Lower Owens River (LOR) alone has 62 miles of channel! Upstream of the LOR are many more miles with nesting Willow Flycatchers and Blue Grosbeaks. Owens Lake currently has literally square miles of shorebird habitat and ponds. The population of migrating birds there has exploded. In April of this year birders recorded 115,000 birds at Owens Lake in one day!
Michael Prather has been teaching about Owens Lake, organizing Owens Lake Big Days, and his Facebook name is even Owens Lake. He's been honored, along with Pete Pumphrey, as an Audubon volunteer. He has participated (also along with Pete) in the Owens Lakebed Planning process, giving important input about the habitat potential in this returning wildlife heritage site.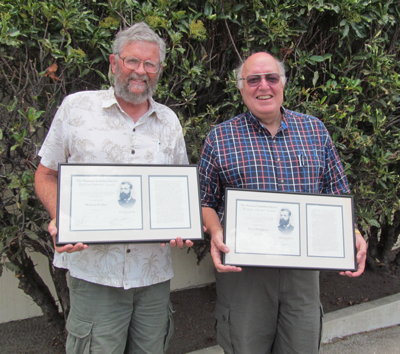 Mike should need no introduction to ESAS members, but in case you've missed it, here are some articles about him and his work:
The evangelist of Owens Lake birds (Audublog, June 20th, 2013, by Garrison Frost)
Audubon volunteers recognized (Audublog, July 30th, 2013, by Andrea Jones)
Everyone is welcome to attend all programs!